ESG Champions 2022
Ideas are the future
18,000 heads of the A1 team must be a great source filled with suggestions to reduce A1's ecological footprint, to provide more equal opportunities or to develop energy-efficient solutions – that's what the A1 ESG managers thought when they decided to sharpen the group-wide competition with a focus on sustainability. They were right! 63 teams came together in all A1 countries, some of them cross-country wise, and packed their sustainable ideas into a presentation. The jury of CEOs and ESG country managers invited 10 teams to the Innovation Camp, where the ideas turned into projects under expert guidance. Finally, six of them convinced at the final pitch and can now call themselves A1 ESG Champion 2022.

Get to know the creative minds of two teams in this story!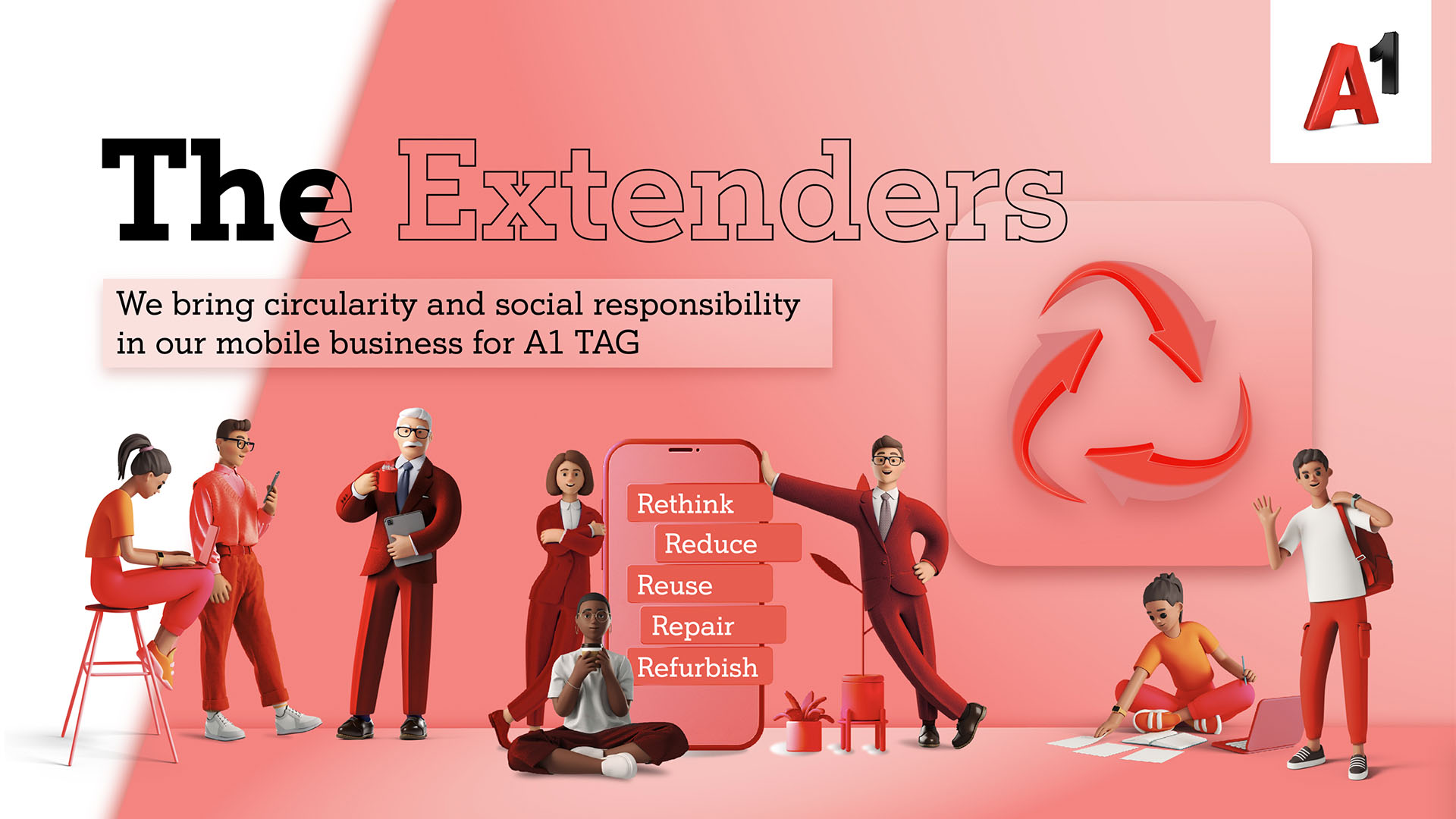 Circular Economy – The Extenders

Initially three teams competed from three companies. In the course of the Innovation Camp, they saw that the overlaps in content were so great that, without further ado, they joined forces to form one team. They envision the future of the circular economy at A1 with a 2nd Chance Center. It`s all about extending the lifecycle of the devices and, if necessary, refurbish them with the aim of reintegrating them into the sales process and placing them on the market with a rental option. In addition, socially disadvantaged people can buy some of the equipment at an affordable price. For this purpose, the challenge is to create retrieval and buy-back processes in order to have enough equipment available. Acting more sustainable with CO2 reductions and resource conservation through the reuse of materials are good for the environment, and also A1 benefits from this initiative for a better tomorrow. If everything goes according to plan, we look forward to a trial of the »affordable phone« in Carinthia and the »2nd Chance Center« in Slovenia in the coming months!

Jury rating: The team »The Extenders« has its finger on the current trend with its idea on various facets of the ESG topic, especially the link to the social component. The cross-company cooperation also shows sustainable commitment in the A1 Group.

IoTrees – CO2-Free IoT Tracking

IoT – the Internet of Things – with its solutions not only brings numerous advantages to customers in terms of speed and precision in the provision of data, but unfortunately also causes CO2 emissions in the production of hardware and the operation of networks. The IoTrees team convinces with a solution for IoT customers: an exact calculation of CO2 emissions of projects and a compensation by planting trees.

Jury rating: »IoTrees« has recognized that the topic of IoT is becoming more and more important and since A1 currently does not have any methods to offset the CO2 balance here, this idea is a first good implementable approach with potential of elaboration in the future.

Together we can all contribute to a better tomorrow!
#EmpoweringASustainableFuture