A1 enriches people's lives: Inspires them in their everyday lives and enables them to do what they love.

And in business, too, A1 creates solutions for entrepreneurs that think a little further ahead – to be that decisive step ahead.
This vision aims to deliver convincing benefits and a positive "experience" for customers and wider society. The A1 Group's digital infrastructure and
services form the foundation for this. This includes, in particular, contributing to shape a sustainable future through technology – for employees, customers, business partners, and all other stakeholders along the value chain, for current and future generations.
In a fast-paced environment, continuous evolution and improvement are essential. To meet increasing customer demands and exceed expectations, the company must evolve its core business.

A1 strives to optimize its infrastructure to deliver best-in-class customer experience and maintain its reputation as a quality leader.
In order to take advantage of tomorrow's business opportunities, the A1 Group focuses on three pillars. The existing portfolio is being selectively
enhanced, and, once selected, growth opportunities are boldly pursued. On top, the Group is looking to enrich its capabilities through partnerships. This will allow the A1 Group to act even quicker and give customers access to an extensive range of digital services from a single source.

A1 is therefore positioning itself as partner of trust to its customers. Furthermore, pooling specialist knowledge within the Group in expertise
hubs allows group-wide topics to be addressed more effectively and to benefit from synergies.
The aspiration to stay relevant for customers was a primary motivator for refreshing the corporate strategy. Humans (i.e., employees, customers,
business partners and other stakeholders) are at the center of the revised corporate strategy. After all, it is the people who work at and with A1 that bring the strategy to life. For this to be successful, there needs to be a well-balanced interaction between employees exhibiting the desired behavior and the company providing a suitable working environment.
Interested in working at A1?
What we do, we do with passion. For our customers. In the spirit of "Human@Center", A1 also offers an appropriate environment for this: Flexible working. Team spirit – across team and country borders. Innovation and agility. Personal development. Equal opportunities. Life Balance. We Make It Happen.
 
More information and attractive jobs can be found on the A1 Jobs Portal: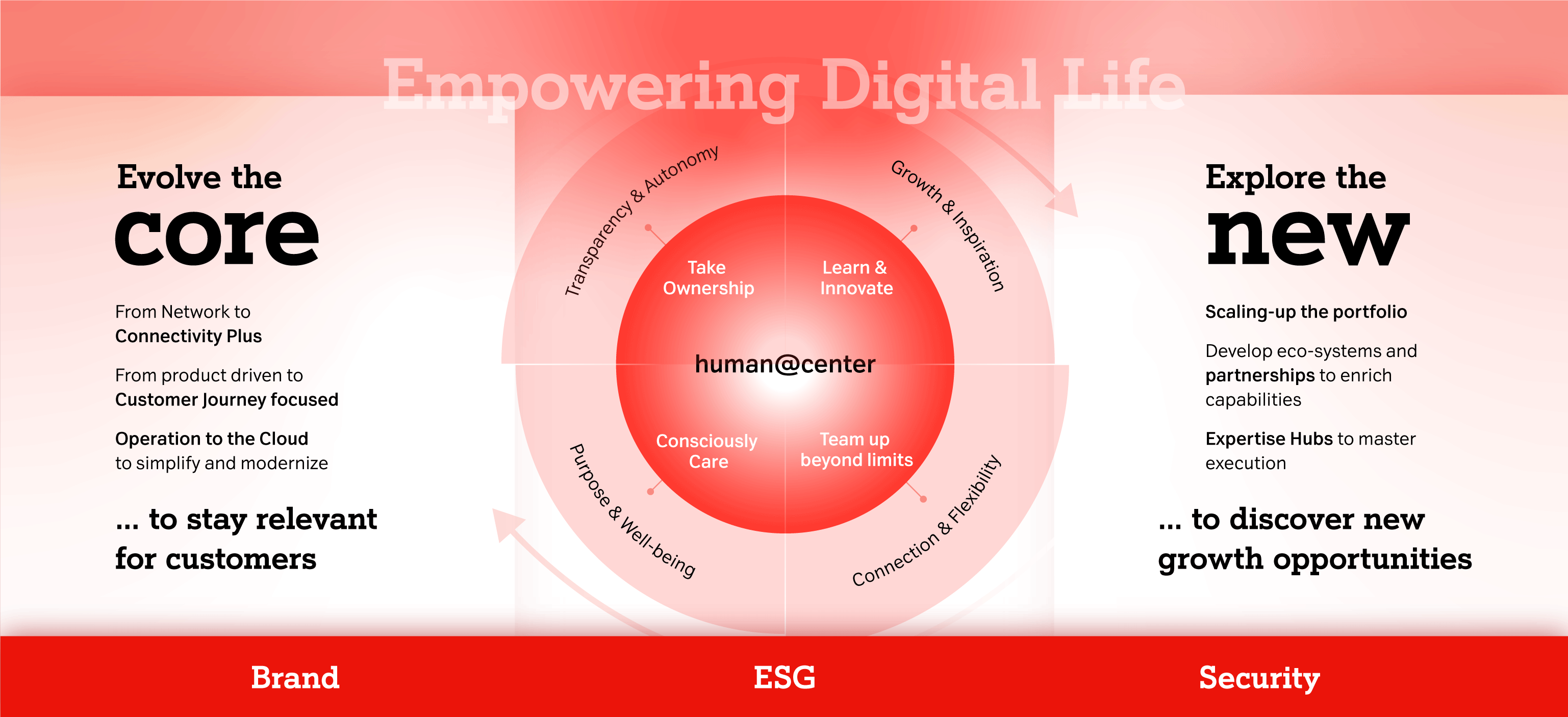 Enabler
A strong Brand
The A1 brand is our common asset in all markets. Customer satisfaction and brand performance show whether our strategy is working.
ESG at A1
It is a particular concern of the Group to constantly improve the environment in which we live.

Security
All A1 Group companies maintain high standards of data protection and information security.